Recent news:
From Olympic to junior ski jumps: Construction works in full swing
Construction of Olympic ski jumps for Beijing 2022 in full swing!
Nordic Ski World Championships 2021 in Oberstdorf: Conversion has started
2000 ski jumping facilities in the archive!
All or nothing: Braunlage tries to make the dream of a large hill become true
Latest updates:
2019-09-20
Benshausen
Bihoro
2019-09-19
Kleinschmalkalden
2019-09-18
Kleinschmalkalden
2019-09-17
Svätý Jur
2019-09-16
Bratislava
2019-09-15
Bratislava
2019-09-14
Valašská Bystřice
2019-09-13
Velenje
Malá Lhota
2019-09-12
Ostravice
Skellefteå
Braslovče
Log pod Mangartom
Hudeje
Advertisement:
Partner: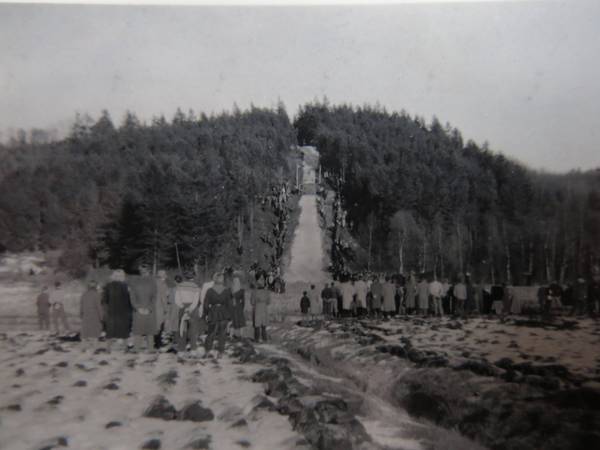 Bruunshåb
.
Skihopbakke:
| | |
| --- | --- |
| K-Point: | 20 m |
| Hill record: | 21.0 m (Flemming Schou , 1951-01-21) |
| Take-off height: | 1.5 m |
| | |
| --- | --- |
| Further jumps: | K10 |
| Plastic matting: | no |
| Year of construction: | 1951 |
| Status: | destroyed |
| Ski club: | Viborg Skiklub |
History:
In 1951 Viborg Skiklub opened ski jump at Viborg's neighbour small town Bruunshåb. It was possible to jump up to 25 metres there. Opening event was organized on 21st January 1951 with best Danish ski jumpers and Norwegian guests who also participated. Local ski jumper and Viborg Skiklub's president Flemming Schou won Viborg City Council Cup with 21 metres jump. The competition with around 2,000 spectators was the only one in hill history because organizers didn't earn enough money (they got only 17 Danish kroner surplus) - mainly because most of spectators didn't wanted to pay and watched competition from the other side of the creek (hill was located on the north side) near place called Søndermølle, which was free. Also the hill wasn't planned well - jumpers had problems with stopping after jump because outrun was too short and located too near to the creek. Organizers set straw bales to make sure that jumpers won't end in the river but it din't solve the problem - one of ski jumpers broke his arm after hitting one of straw bales and the other one went into crowd and hit young boy in head.
On the other side of Bruunshåb also a smaller ski jump existed during 1950s and was used by local youngsters who tried there to jump.
Advertisement:
Comments:
Social Bookmarks