Ski jump of Moscow in flames
on 2012-05-03
The "Leninskie Gory" ski jumping hill in Russia's capital Moscow was damaged by a fire on the landing hill yesterday night.
The fire alarm on the 72 meter hill, which is located in the heart of Moscow on Sparrow Hills on the banks of Moskva river, started yesterday evening at 10:45 pm and around 45 minutes later the fire was extinguished. As the ITAR-TASS news agency from Moscow reports, the plastic mattings on the level of the judges' tower caught fire and around 70 sqm were burnt. The inrun tower was not damaged and no persons were injured.
The cause for the fire was probably a chinese sky lantern (Kongming lantern) that landed on the landing slope and ignited the mattings. According to the chairman of the sports board of Moscow the originally 1956 built ski jumping facility shall be completely modernized within 6 months and the only 2010 renewed plastic mattings shall be replaced by better, fire-proof ones.
Ski Jumps:
Moskva (Vorob'yevy gory)
Links:
Photo gallery: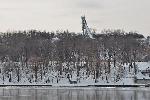 Advertisement:
Comments:
Social Bookmarks