Startpage
Latest hill records:
Latest articles: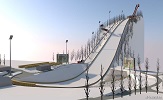 2016-04-03:
Conversion of Heini-Klopfer-Schanze about to start
In the beginning of April the modernization works on the Heini-Klopfer-Ski Flying Hill in Oberstdorf are going start. Until winter the hill will be made competition-ready again and be enlarged, in order to be able to host the ski flying WC in 2018.

2016-03-28:
Luis on Ski Jumping Hill Tournament: at the World Cup Final 2016 in Planica, Part I
The season 2015/2016 has come to an end, also for our columnist Luis Holuch. Due to his studies, which are almost finished, Luis had to cut down the number of his travellings, but nevertheless, he took the chance to be part of the World Cup Final in Planica. Just, as you are used to it, he tells about his experiences and adventures on skijumpinghills.com. Read here the first of two episodes and enjoy!

2016-02-02:
Ljubno: 100 meters will not be an illusion anymore
Normally, Ljubno ob Savinji (Slovenia) is a quiet and restful place, but not so in the past months: the old Logarska Dolina normal hill was demolished and served a spot for a completely new ski jump. This new facility was finished recently and is ready for the upcoming World Cup competitions of the ladies in less than two weeks. Skijumpinghills.com presents the first information about the new normal hill, which is going to be bigger than the old one.

2015-12-17:
Final renovation phase in Zao finished
The reconstruction of the ladies'-world cup ski jump Zao (Japan) is completed. The freshly renovated and enlarged K95 recently saw the first snow and is ready for the world cup competitions on 22th and 23rd January (Friday and Saturday). Ski Jumping Hill Archive reports about the details of the reconstruction and presents the newest photos from Japan.

2015-10-31:
Summer ski flying at Copper Peak in 2017?
Plans for the re-activation of Copper Peak hill are becoming more concrete. From 2017 onwards the finale of Summer Grand Prix could be staged at Ironwood. The modernization as the world's only summer ski flying hill shall start in spring 2016.
Advertisement:
Latest comments:
Social Bookmarks