Startpage
Latest hill records:
Latest articles:

2015-08-01:
Olympic Games 2022 in Beijing - the ski jumping venue
The IOC has awarded the 2022 Olympic Winter Games to Beijing. Here is a preview of the venue of ski jumping events, the future "Kuyangshu Ski Jumping Ground" at Zhangjiakou mountain cluster.

2015-07-19:
Heini-Klopfer-Schanze to be re-built
The future perspectives of the Heini-Klopfer ski flying hill at Oberstdorf (GER) are finally cleared. The delegated officials and politicians voted for a general renovation of Germany's ski flying hill. This project will cost around 13 million Euros and is supposed to be finished until the end of 2016. Skijumpinghills.com presents this project and the planned financial investments in detail.

2015-07-18:
First jumps on modernized large hill at Oberhof
Lady ski jumper Juliane Seyfarth made the first jump of 114 m on Hans-Renner-Schanze in Oberhof on Wednesday. After more than two years of construction time and some delays, the modernized ski jumping facility at Kanzlersgrund is now completed.

2015-07-04:
New ski jumping facility construction in Kazakhstan advancing
The construction of a new World Cup capable ski jumping center in Kazakhstan shall be compelted already by end of the year. Since 2012 a new tourism and winter sports center has been developed at Shchuchinsk-Burabay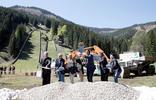 2015-05-11:
Renewal of NAZ Eisenerz starting
With today's ground-breaking ceremony the modernization of Nordic Training Center (NAZ) in Eisenerz, Austria has started. For around 8 million Euros Erzberg ski jumping hills and the cross-country skiing center are renewed.
Advertisement:
Latest comments:
Social Bookmarks