Startpage
Latest hill records:
Latest articles:
2014-04-13:
New ski jumps in Kazakhstan under construction
At Borovoye works on a new ski jumping hill complex with K125 and K90 are running. The ski jumps in the north of the capital Astana shall be completed by end of 2014.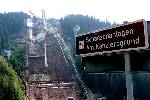 2014-04-10:
Works in Oberhof progressing
For a year the conversion works on ski jumps at Kanzlersgrund in Oberhof have been running. The landing hill of HS 140 is renewed and the normal hill enlarged onto HS 100.
2014-03-11:
History of the ski jumps at Harrachov
Only a couple of days before the Ski Flying World Championships at Harrachov we take a closer look at the ski jump history of the town in Giant Mountains, where ski jumping dates back to the early 20th century.

2014-02-18:
Luis on Ski Jumping Hill Tournament: Being an eagle once in a life time!
After a creative break, our columnist Luis Holuch is back with a very special episode of his column "Luis on Ski Jumping Hill Tournament". In course of the ladies ski jumping world cup in Hinzenbach (AUT), Luis jumped on a ski jumping hill. Read now about his experiences and enjoy it!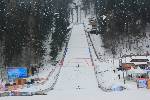 2014-02-07:
Ski jump at Ljubno to be enlarged
This year's Ladies World Cup at Ljubno had to be moved to Planica due to lack of snow, but there are enlargement plans for Logarska Dolina HS 95!
Advertisement:
Latest comments:
Social Bookmarks