Startpage
Latest hill records:
Latest articles:

2014-02-18:
Luis on Ski Jumping Hill Tournament: Being an eagle once in a life time!
After a creative break, our columnist Luis Holuch is back with a very special episode of his column "Luis on Ski Jumping Hill Tournament". In course of the ladies ski jumping world cup in Hinzenbach (AUT), Luis jumped on a ski jumping hill. Read now about his experiences and enjoy it!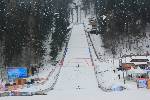 2014-02-07:
Ski jump at Ljubno to be enlarged
This year's Ladies World Cup at Ljubno had to be moved to Planica due to lack of snow, but there are enlargement plans for Logarska Dolina HS 95!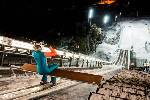 2014-01-30:
First ski jumps in Falun
Lugnet ski area at Falun with its two ski jumping hills had to be renovated for the Nordic WSC 2015. Now the first ski jumps on K90 normal hill could be performed.

2014-01-23:
New junior hills in Vienna in planning stage
The "Wiener Stadtadler" require a new ski jumping complex for young ski jumping athletes in Vienna. Three plastic covered hills could be built in Penzing district.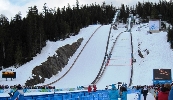 2014-01-22:
Whistler becoming national training center
Whistler Olympic Park with both Olympic ski jumping hills of 2010 was appointed as national training center for ski jumping and nordic combined in Canada. Junior ski jumping hills shall be build now.
Advertisement:
Latest comments:
Social Bookmarks