Startpage
Latest hill records:
Latest articles:
2016-08-15:
Kandersteg now the second year-round center in Switzerland
Two weeks ago, after two years of building progress, the new Nordic Arena in Kandersteg (Switzerland) got opened with an international opening competition. The new national Nordic ski center of Kandersteg (NNSK) including its three ski jumps is now the second all-year-long ski jumping hill center in Switzerland, besides Einsiedeln. With this opening, the words of Adolf Ogi old-member of the Swiss Federal Council and chairman of the patron committee of NNSK, "new ski jumps are what this country n

2016-08-04:
New Erzberg Arena built and opened in time
In the beginning of July, the new Erzberg Arena in Eisenerz/Ramsau was opened with a ceremonial act. While in winter, this multifunctional sports facility, could be used provisional, it is now completed and can be used in complete extent. Skijumpinghills.com reports about the building measures and also focusses on the importance of this project for the Nordic ski sports in the Steiermark region in Austria.

2016-07-01:
Luis on Ski Jumping Hill Tournament: at the World Cup Final 2016 in Planica, Part II
As promised, now is the time for another release: the third and final episode of our columnist Luis Holuch's recap of the season final in Planica. This XXL article is about friendships, meetings and a Sunday evening, which turns out completely different than expected. Now, the winter season has ended also for us - right at the beginning of the new summer season. Nevertheless, we hope you will enjoy reading this article!

2016-05-04:
Luis on Ski Jumping Hill Tournament: at the World Cup Final 2016 in Planica, Part II
After a good start and a long walk home in the first episode of this year's Planica recap by our columnist Luis Holuch, you can now find out how he experienced the team competition, which traditionally took place on Planica's saturday. And that is not all: you can already look forward to the final, third, part. So, stay tuned and enjoy reading this episode of "Luis on Ski Jumping Hill Tournament"!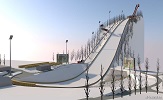 2016-04-03:
Conversion of Heini-Klopfer-Schanze about to start
In the beginning of April the modernization works on the Heini-Klopfer-Ski Flying Hill in Oberstdorf are going start. Until winter the hill will be made competition-ready again and be enlarged, in order to be able to host the ski flying WC in 2018.
Advertisement:
Latest comments:
Social Bookmarks