Recent news:
2500 ski jumping facilities now online!
The story behind the lost ski jumping hills in Poland
The ski jumping hill dictionary
More than 5000 ski jumping hills in our archives!
Normal hill in North Korea discovered!
Latest updates:
2020-10-19
2020-10-16
Egg
2020-10-15
Zwickau
2020-10-14
Prokopevsk
Hinterzarten
Volkhov
Advertisement:
Partner: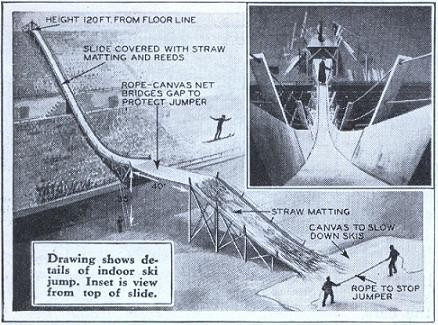 Minneapolis
Auditorium
.
Auditorium Indoor Jump:
| | |
| --- | --- |
| Further jumps: | no |
| Plastic matting: | yes |
| Year of construction: | 1934 |
| Status: | destroyed |
| Coordinates: | 44.971493, -93.271370 |
History:
In June 1934 an indoor ski jumping hill was set up in the Auditorium of Minnesota during "Northwest Sportsmen's Show". The inrun was starting 120 feet above ground level of the convention hall and was running downwards over spectator's places. Ski jumping experts as Anders Haugen participated in the event and made jumps around 25 meters on the ski jump which was completely covered with straw mattings and reed. The outrun was construed by canvas and a rope was tautened in order to slow down the ski jumpers.
Advertisement:
Comments:
Social Bookmarks