Recent news:
From Olympic to junior ski jumps: Construction works in full swing
Construction of Olympic ski jumps for Beijing 2022 makes progress
Nordic Ski World Championships 2021 in Oberstdorf: Conversion has started
2000 ski jumping facilities in the archive!
All or nothing: Braunlage tries to make the dream of a large hill become true
Latest updates:
2019-11-12
Josefův Důl
2019-11-11
Mariazell
2019-11-10
St. Johann in Tirol
2019-11-09
Kössen
2019-11-08
St. Aegyd
2019-11-07
Hammer
2019-11-06
Auerbach (Bayern)
2019-11-05
2019-11-04
Jablonec nad Nisou
2019-11-03
Jablonec nad Nisou
2019-11-02
Příchovice
2019-11-01
Janov nad Nisou
2019-10-31
2019-10-30
Advertisement:
Partner: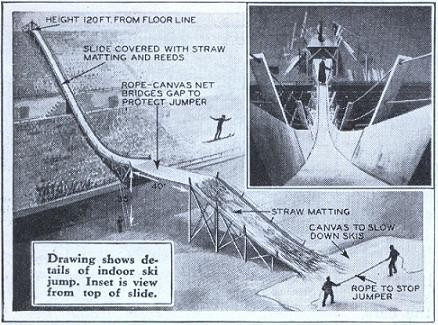 Minneapolis
Auditorium
.
Auditorium Indoor Jump:
| | |
| --- | --- |
| Further jumps: | no |
| Plastic matting: | yes |
| Year of construction: | 1934 |
| Status: | destroyed |
History:
In June 1934 an indoor ski jumping hill was set up in the Auditorium of Minnesota during "Northwest Sportsmen's Show". The inrun was starting 120 feet above ground level of the convention hall and was running downwards over spectator's places. Ski jumping experts as Anders Haugen participated in the event and made jumps around 25 meters on the ski jump which was completely covered with straw mattings and reed. The outrun was construed by canvas and a rope was tautened in order to slow down the ski jumpers.
Advertisement:
Comments:
Social Bookmarks