Recent news:
2500 ski jumping facilities now online!
The story behind the lost ski jumping hills in Poland
The ski jumping hill dictionary
More than 5000 ski jumping hills in our archives!
Normal hill in North Korea discovered!
Latest updates:
2020-10-19
2020-10-16
Egg
2020-10-15
Zwickau
2020-10-14
Prokopevsk
Hinterzarten
Volkhov
Advertisement:
Partner: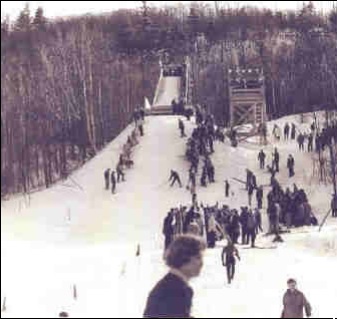 Fryeburg
.
Stark's Hill ski jump:
| | |
| --- | --- |
| K-Point: | 20 m |
| Hill record: | 21.9 m (72 ft) |
| | |
| --- | --- |
| Further jumps: | no |
| Plastic matting: | no |
| Year of construction: | 1961 |
| Operating until: | 1970s |
| Status: | destroyed |
| Ski club: | Fryeburg Academy Ski Team |
| Coordinates: | 44.001773, -70.985580 |
History:
In the summer of 1960 Erlon "Bucky" Broomhall became a biology teacher at Fryeburg Academy. The school already had its own ski team and an alpine skiing course at the time. Shortly after coming to town, Broomhall accepted the role as coach of the Fryeburg Academy Ski Team. He didn't waste time and soon started developing skiing in Fryeburg. One of his first ideas was to host the 1961 State of Maine Class A state championship ski meet at Stark's Hill. To do that it was necessary to built a course for cross-country skiing and a ski jump. Shortly after finishing a 3 km course, works on the ski jump site started. The artifical K20 hill was built according to plans prepared by United States Ski and Snowboard Association. The outrun was located on a steep slope so it was flattened during works - otherwise ski jumpers would even have gained more speed after landing. Even though Broomhall already left Fryeburg in 1962, Stark's Hill ski jump was operating until late 1970s when high school ski jumping program in the state of Maine was cancelled. The hill record was at 72 feet (22 m).
Advertisement:
Comments:
Social Bookmarks