Recent news:
2500 ski jumping facilities now online!
The story behind the lost ski jumping hills in Poland
The ski jumping hill dictionary
More than 5000 ski jumping hills in our archives!
Normal hill in North Korea discovered!
Latest updates:
2020-10-19
2020-10-16
Egg
2020-10-15
Zwickau
2020-10-14
Prokopevsk
Hinterzarten
Volkhov
Advertisement:
Partner: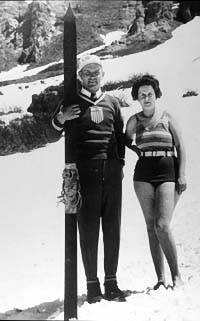 Auburn
.
Donner Pass Jumps / Mikkelsen / Mangseth Hills:
| | |
| --- | --- |
| Further jumps: | K15, K5 |
| Plastic matting: | no |
| Year of construction: | 1939 |
| Status: | destroyed |
| Ski club: | Auburn Ski Club |
| Coordinates: | 39.333305, -120.354225 |
History:
The founders of Aubrun Ski Club in California were eager ski jumpers and so already in 1920's the first ski jumping hill existed at "Cisco Grove". The peak time of ski jumping activities at Auburn was reached in 1930's when many national competitions were organized there and even two US championships were generated with Roy Mikkelsen and Ron Mangseth.
In 1934 and 1935 the ski club even organized a show tournament at the University of Berkeley, what for tons of snow had to be transported from Sierra Nevada to the coast.
In 1960's ski jumping activities were moved to Donner Pass (2160 m) near Truckee after the completing of Interstate-80. Still today there are ski jumping activities at Aubrun on these three ski jumps K40, K15 and K5.
Advertisement:
Comments:
Social Bookmarks