Recent news:
2500 ski jumping facilities now online!
The story behind the lost ski jumping hills in Poland
The ski jumping hill dictionary
More than 5000 ski jumping hills in our archives!
Normal hill in North Korea discovered!
Latest updates:
2021-05-17
2021-05-15
2021-05-09
2021-05-08
Skien
2021-05-07
Karpacz
2021-05-06
Onstmettingen
La Bresse
Stjørdal
Advertisement:
Partner: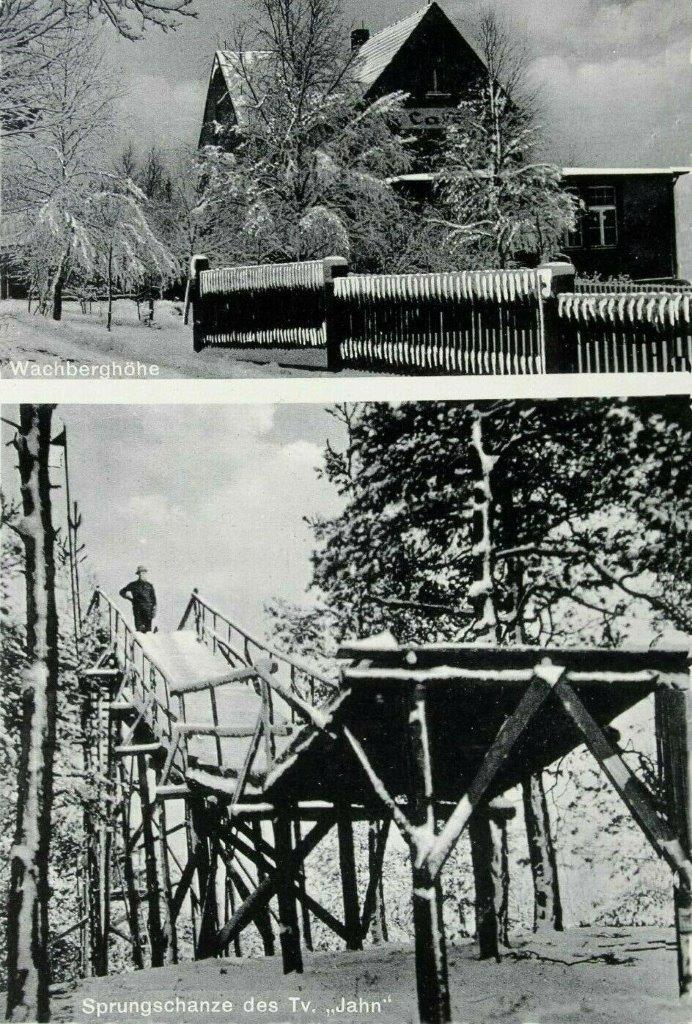 Ottendorf-Okrilla
.
Sprungschanze am Wachberg:
| | |
| --- | --- |
| Further jumps: | no |
| Plastic matting: | no |
| Year of construction: | 1927 |
| Year of destruction: | 1948 |
| Status: | destroyed |
| Ski club: | TV Jahn Ottendorf-Okrilla |
| Coordinates: | 51.187156, 13.802816 |
History:
The creation of a snow slope and the construction of the ski jumping hill on Wachberg at Cunnersdorf in today's Ottendorf-Okrilla municipality can be primarily awarded to the founder of the Wachberghöhe restaurant. With these construction measures he wanted to make the area more attractive for winter sports enthusiasts in order to attract more guests. When the sports facilities were built in 1927, the Jahn gymnastics club was also involved, since its members were also interested in the emerging winter sports. It is not known whether any major competitions took place on Wachberg. When the 2nd World War was over, the wood of the inrun tower was used for heating so that the ski jump was already completely demolished in 1948-49.
Advertisement:
Comments:
Social Bookmarks