Recent news:
7000th ski jumping hill added to the Archive!
New Granåsen ski jump in Trondheim inaugurated
Fire destroys ski jumps in Biberau-Biberschlag
Copper Peak: Funding of the renovation finally secured
200 ski jumping facilities in the USA
Latest updates:
2023-12-01
Mandal
Hinwil
2023-11-30
Bern
2023-11-29
Karpacz
Altglashütte
Annarode
Lenk
Advertisement:
Partner: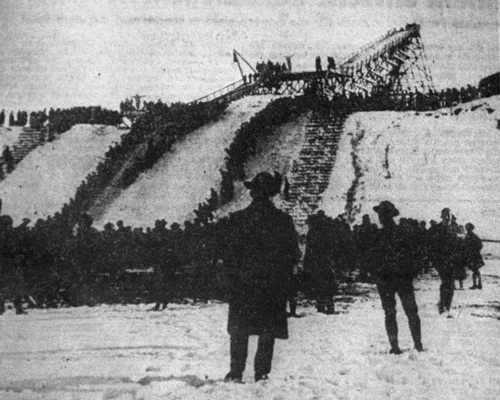 München
Rothof
.
Skisprungschanzen in der Kiesgrube:
| | |
| --- | --- |
| K-Point: | 20 m |
| Tower height: | 23 m |
| | |
| --- | --- |
| Further jumps: | K10 |
| Plastic matting: | no |
| Year of construction: | 1925 |
| Status: | destroyed |
| Ski club: | VFS München |
| Coordinates: | 48.145172, 11.62272 |
History:
True crowds of spectators came to Munich-Bogenhausen om March 13, 1925, when sports enthusiast Hans Roth organized a ski jumping competition at the border of his gravel pit together with famous hill architect Carl J. Luther. The construction of the wooden ski jumps was done by 1924 founded association for the promotion of winter sports in Munich (VFS) and then the hills were preparated by members of the infantry regiment 19. The inrun tower of the large jump was 23 meter high and the same distance was the jumps of Norway's Aasland on this very day.
One week later local ski jumpers and many spectators gathered at Rothof once again for another competition. There especially a double jump of Karl Neuner from SC Partenkirchen together with his brother Martin fascinated.
The plans of the initiators to establish Munich as a ski jumping city did not come true and there were no more competitions after these in Bogenhausen.
Advertisement:
Comments:
Social Bookmarks