Skiing with the Card Sharks
on 2014-01-17
Why it would make sense for skiing and poker to have major crossover events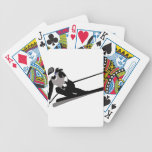 Thanks to the poker boom that started in 2003, the game stopped being an activity that was merely played at casino tables. Today, poker is being included in many sports events like Basketball, Football, and Tennis, and the results of such crossovers are pretty astounding.
Perhaps the reason why poker is being included in many sporting activities is because of the fact that a lot of popular athletes are interested in poker as well. Car racing legend Gualter Salles, Baseball star Jose Canseco, and Volleyball striker Erica Shoenberg are only among the many athletes who are not only successful within their sports but also in bringing home huge poker tournament winnings. There's also the Big ThrowDown Challenge, an event endorsed by Bwin's PartyPoker, that pitted snowboard, skateboard, wakeboard, FMX and BMX stars against each other in a hardcore game of poker.
However, it would seem that poker is not only being integrated into many sporting events because of the fact that athletes love this discipline. In a way, it is also being included in these events as an opportunity to raise funds for charity. After all, popular athletes endorsing events where people can mingle and compete with the stars at poker is a good idea for fundraisers. For example, there's the Allan Houston Legacy Fund that once raised $250,000 for fatherhood and entrepreneurship programs by hosting a poker tournament. Conversely, there's MMA superstar Randy Couture's GI Charity Poker that constantly raises thousands for injured US soldiers and their families. If skiing events could only find common ground with poker, the sport would definitely be able to organize something as big as the aforementioned events. In fact, capitalizing on this idea would be very refreshing since there are definitely a lot of skiing aficionados out there who are interested in participating in poker as well. After all, poker is very popular in the North American and European shores, which are places where skiing activities are mostly held at.
Today, there are very little to no affiliation between skiing events and poker. However, should one be instigated, it would act as a useful way to raise money for charity as there are already many successful crossover events between poker and sports, and the aforesaid charity events are just some of them. If only skiing event organizers would widen their perspective and tap into poker's potential, they would be able to do more for the sport. Poker can help promote skiing and the destinations that organizers are holding its events at to a wider audience. In addition, poker can bring camaraderie between people of different disciplines, in this case skiing enthusiasts and card game aficionados.
Advertisement:
Comments:
Social Bookmarks